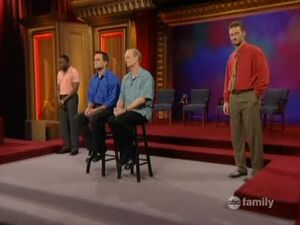 Weird Newscasters or Weird Newsreaders is a game in which one performer is the anchor of a news broadcast who acts normally, but usually gives a humorous or punny name and top story. The other three are the co-anchor, sports reporter (sometimes finance reporter on the British version), and weatherman, and are each given an odd personality or character which they must exhibit as they relate appropriate news reports for their fields.
Appearances
UK
US
AU
Community content is available under
CC-BY-SA
unless otherwise noted.