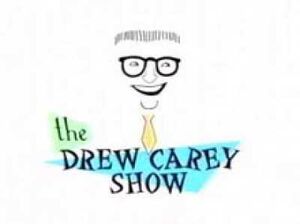 The Drew Carey Show is an American sitcom that aired on ABC from 1995 to 2004. The show was set in Cleveland, Ohio, and revolved around the retail office and home life of "everyman" Drew Carey, a fictionalized version of the actor.
The show was created by Carey, who had both stand-up comedy and writing experience, and Bruce Helford, who was once a writer for Roseanne. It was the first television show to have an episode simulcast on the Internet. The show was produced by Mohawk Productions in association with Warner Bros. Television. The show debuted on the ABC network on 13 September 1995, and ranked among the Top 30 programs for four seasons before sliding in popularity. Ratings declined sharply during the final two seasons, and the last two episodes aired on 8 September 2004.
Show Concept
Drew Carey is a fictionalized version of himself, a self-proclaimed "everyman". Drew Carey (the actor) has been quoted as saying his character would be what the actor would be if he never became an actor. He has a "gang" of friends who embark with him on his everyday trials and tribulations. Drew's friends include erudite but unambitious Lewis (Ryan Stiles), excitable idiot Oswald (Diedrich Bader) and his friend (later on-off girlfriend) Kate (Christa Miller). In the final two seasons, Kate gets married and moves to Guam, in the same two-part episode that introduces and develops Drew's relationship with Kellie (Cynthia Watros), which carries on over the final two seasons.
For its first seven seasons, Drew's workplace is the office of fictional Cleveland department store Winfred-Lauder, where he has worked for years and still works as Assistant Director of Personnel. One of his coworkers is Mimi Bobeck (Kathy Kinney), a large woman with a clownish wardrobe, a lot of make-up (including her trademark bright blue eye shadow), and a foul mutual dislike for Drew. The two eventually become closer (although still maintaining a less heated rivalry), primarily because Mimi fell in love with and married Drew's crossdressing heterosexual brother Steve, a frequently recurring character.
In the first season they work for the unseen Mr. Bell (Kevin Pollak), only seen in the season one finale, to which he is greeted with applause; in later seasons, their boss and sometimes-co-worker is Nigel Wick (Craig Ferguson), an eccentric and unlucky Englishman. In the final two seasons, they work for peaceful, hippie-like Evan (Kyle Howard) and the much more professional Scott (Jonathan Mangum), tech-smart but naïve twenty-somethings who own the Neverending Store, an online retailer with offices in the same location.
In addition to his day job, Drew, along with Oswald, Lewis, and Kate (and from around Season 5 onwards, Mimi), runs a small business out of his garage, selling Buzz Beer, a concoction of beer and coffee. It becomes extremely popular in the region and is sold at the group's hangout, The Warsaw Tavern.