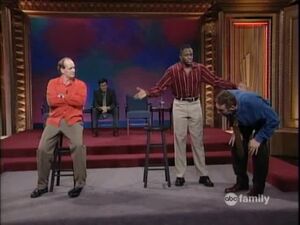 Stand Sit Bend or Stand Sit Lie or Stand Sit Lie Down is a game in which three performers enact a given scene. At any given time, one of the performers must be standing, one must be sitting, and one must be either bending over or lying down, depending on the game. Whenever one performer changes position, the others must change to maintain this requirement. A stool or bed is typically provided to accommodate the scene.
Appearances
UK
US
Community content is available under
CC-BY-SA
unless otherwise noted.