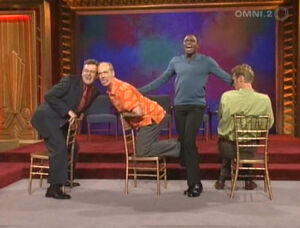 Song Styles (called Musical Tribute on Trust Us with Your Life) is a game in which one performer makes up a song about an audience member or celebrity guest or about an audience-suggested subject. The performer is given a specific style or artist to emulate. Sometimes, the other performers (and on a couple occasions, current US host Aisha Tyler) provide backup vocals or dancing. Sometimes there are props given to the backup performers, such as hats or chairs. In early UK playings, two performers would take turns singing a song about the same item, but their songs would each be in a different style. On Drew Carey's Improv-A-Ganza, there would sometimes be three singers. On Trust Us with Your Life, all of the performers would sing. In later US playings, the celebrity guest sometimes joins in the song.
Appearances
UK
US
IAG
Trust Us with Your Life
Variants
Variations on the basic game include:
Trivia
Aisha tends to call it "Song Style".
Community content is available under
CC-BY-SA
unless otherwise noted.