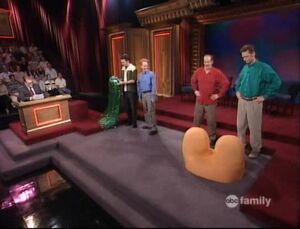 Props is a game in which the performers are split into pairs and each pair is given a different unusual prop. The pairs alternate at the prompting of the host's buzzer, giving short scenes using their prop in a unique way. The game typically results in a series rapid-fire one- or two-liners.
See Props/Gallery for pictures of every prop.
Appearances
UK
US
AU
Trivia
Props in the UK version ranged from recognizable objects to bizarre hand-made objects. In the US version, they were commonly shaped foam.
Community content is available under
CC-BY-SA
unless otherwise noted.