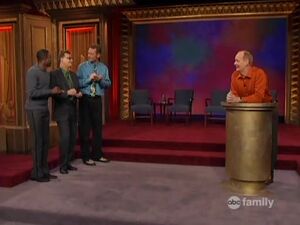 Press Conference is a game in which one performer plays a well-known public figure giving a press conference at a podium while the other three play journalists asking questions. The subject of the conference is either making some sort of announcement, such as Santa retiring or the first female pope. The audience and journalists are shown who the public figure is and what they have done, but the public figure is not and must deduce what their press conference is about from the questions the journalists ask.
Similar to "Newsflash" and "Interrogation"
Appearances
UK
US
AU
Community content is available under
CC-BY-SA
unless otherwise noted.