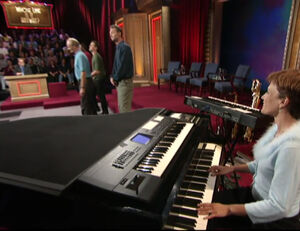 The Plastic Surgery Hoedown (US 2-39) is an edition of the "Hoedown" game from the American version of Whose Line. It was performed in Episode 2-39 by Wayne Brady, Chip Esten, Colin Mochrie, and Ryan Stiles, with the help of Laura Hall on the piano.
Lyrics
Wayne:
Here is some news I heard all over the place.
Michael Jackson had surgery to fix his face.
He didn't think that he looked good. He started sulkin'.
I saw him the other day. He looks just like Macaulay Culkin.

Chip:
Alright. Okay.
I know something nice. It isn't so darn nasty.
You could just be a doctor and go giving rhinoplasty.
Michael Jackson had some. It wasn't just his loss.
Instead of one Michael Jackson, now there's two Diana Ross.

Colin:
The plastic surgery didn't work, I must confess.
My, my face is now one big bad mess.
Here's a little hint if any of you go,
Make sure your doctor isn't Dr. Picasso.

Ryan:
I wanted surgery but my doc said "No."
I had to force him 'cause I had no place to go.
I had to threaten him with my big old Mauser.
Now I look just like a grown up Doogie Howser.

All:
A grown up Doogie Howser!
Community content is available under
CC-BY-SA
unless otherwise noted.