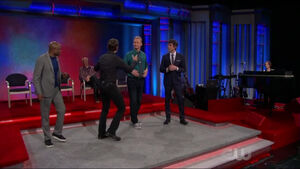 The Pilot Hoedown (US 14-05) is an edition of the "Hoedown" game from the American version of Whose Line. It was performed in Episode 14-05 by Wayne Brady, Chip Esten, Ryan Stiles, and Jeff Davis, with the help of Laura Hall on the piano. This is the second of two Pilot Hoedowns from the same taping; the other aired in Episode 13-11.
Wayne:
A pilot is a great job; you get to fly
You kiss gravity and the ground bye-bye
Chip got a really great job; it made me a believer
I can't wait 'til CBS gives me a drama; I wouldn't do this [shit] neither!

Chip:
I love me a pilot, it really is so dear
I do appreciate the way he flew me here
I love all you guys and I do appreciate
You all look fantastic, and Drew looks freaking great!

Ryan:
Oh, I love my stewardess, better than the rest
Oh my god, you should see the size of her breasts!
I called her up, oh yeah, she knows where to sit
Come right over here on my cockpit

Jeff:
Well my name's Captain Sully; I landed in the water
I cannot fly a plane like I know I oughter
I didn't get no kudos, I didn't get no thanks
But I don't give a hooey, I'm being played by Tom Hanks

All:
Played by Tom Hanks!