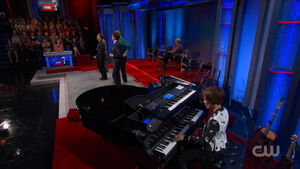 The Pilot Hoedown (US 13-11) is an edition of the "Hoedown" game from the American version of Whose Line. It was performed in Episode 13-11 by Wayne Brady, Chip Esten, Ryan Stiles, and Jeff Davis, with the help of Laura Hall on the piano.
This is the first of two Pilot Hoedowns from the same taping; the other aired in Episode 14-05.
Lyrics
Wayne:
You wanna be a pilot? That's a really good job,
But you stay at home and you act just like a slob
You smoke pot all day and I just don't know why
Just because you get high, that don't mean that you can fly

Chip:
Oh, hello, I'm your pilot; this news is kind of rough
I studied hard at flying, but I guess just not enough
We're gonna crash now. We're going down for sure,
'Cause when I used the bathroom, well, I locked that cockpit door

Ryan:
Hey, here's another stewardess, and this one's really fine
I called her up front 'cause I'm gonna make her mine
She's the number one; she's the one I pick
Why don't you wander over here and sit on my joystick?

Jeff:
Well, I'm really attracted to the gal in 2C
All through this flight, she's been coming on to me
We're going to start our landing; I know she is wishin'
That I am locked in the upright position

Ryan:
Why didn't I do that?!
Community content is available under
CC-BY-SA
unless otherwise noted.