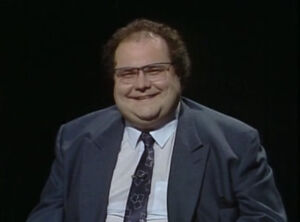 Michael "Mike" McShane (born 25 June 1955) is an American actor, singer, and improvisational comedian. He appeared in the late 1980s and early 1990s in the original British television show Whose Line Is It Anyway? and has guested with The Comedy Store Players. He voiced Marlon, Caracticus P. Doom and various other characters in Cosgrove Hall's Avenger Penguins and Quozmir in Dave the Barbarian and appeared in the 1991 blockbuster Robin Hood: Prince of Thieves as Friar Tuck, did various TV and film voice-over work, had a supporting role in the fantasy-mystery show Wayward Pines, and appeared in 3rd Rock from the Sun and The Drew Carey Show.
Mike is best known for his performances in the musical games of Whose Line? such as "Song Styles" and "Bartender".
Appearances
Community content is available under
CC-BY-SA
unless otherwise noted.