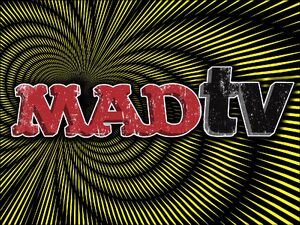 Mad TV is an American sketch comedy television series originally inspired by Mad magazine. The show featured animated "Spy vs. Spy" and Don Martin cartoon shorts as well as images of Alfred E. Neuman, although the sketch comedy rarely if ever had any relation to the magazine's content. Its first TV broadcast was 14 October 1995. The one-hour show first-ran on Saturday nights on Fox, and was in syndication on Comedy Central. In Australia the show screens on satellite and cable TV channel The Comedy Channel and in late-night timeslots on free-to-air broadcaster the Nine Network and its affiliates.
The show version was created by Fax Bahr and Adam Small. The series was originally produced by Bahr/Small Productions and Quincy Jones/David Salzman Entertainment (QDE). After Bahr and Small left the series at the end of the third season (they were later credited as "executive consultants"), the series was handled by QDE and WB Television Distribution (its parent company Time Warner Entertainment owns Mad magazine through its DC Comics subsidiary). The series was directed by Bruce Leddy (196 episodes) as well as David Grossman, and Amanda Bearse. Mad Tv is also known as "The House that Will Sasso Built."
On 12 November 2008, Fox announced that Mad TV's 14th season would be its last. David Salzman said that he would be exploring the continuation of the show on another channel; possibly cable. In early 2009, the show was moved to air after Talkshow with Spike Feresten, the show that normally followed Mad TV, as a test, before being moved back. The series finale aired on May 16, 2009. The show was nominated for 35 Emmy awards, winning five, and was succeeded by an unrelated animated sketch comedy series, MAD that premiered on Cartoon Network in 2010. Reruns used to air on Spike TV (back when it was called "The New TNN") and now currently air on early mornings on Comedy Central.
Connections
Keegan-Michael Key, Phil LaMarr, Nicole Parker and Debra Wilson were some of the notable recurring sketch performers.
Wayne Brady, Fred Willard, Jerry Springer, Heather Anne Campbell, Kathy Griffin, Ryan Stiles, Whoopi Goldberg, Aisha Tyler and Stephen Colbert made either guest appearances, appeared as themselves or performed hosting duties.
Community content is available under
CC-BY-SA
unless otherwise noted.