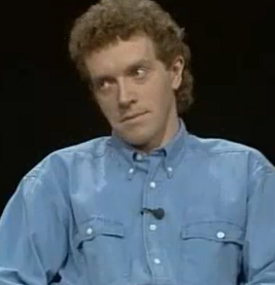 Michael James Dominic Sweeney (born 7 February 1955, Bournemouth, England), best known as Jim Sweeney, is an English actor and comedian, best known for his improvisation partnership with Steve Steen. He is a member of The Comedy Store Players.
In 1987, Sweeney played Samuel Taylor Coleridge in an episode of Blackadder the Third, with Steve Steen alongside him as Lord Byron. He then appeared in commercials and radio comedies before acquiring a semi-regular slot as a contestant on the Channel 4 improvisation show Whose Line Is It Anyway? from 1991 to 1993. Comedy partner Steen would later join him frequently in these appearances.
Sweeney has had multiple sclerosis since 1985. He has been required to use a walking stick and, from 2005, a wheelchair. This meant that he had to give up appearing on stage in 2008.
Appearances
Community content is available under
CC-BY-SA
unless otherwise noted.