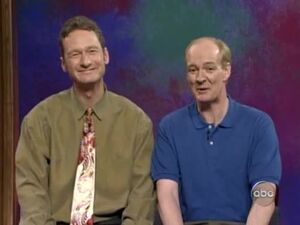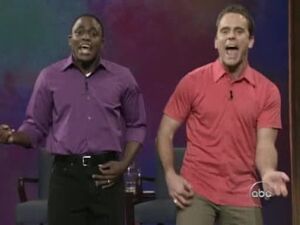 Greatest Hits is a game in which one or two performers act as pitchmen in a commercial for a compilation of songs about an audience-provided topic. One or both of the other performers perform short songs whose title and genre or artist are prompted by the pitchmen. In the British version, the performers would sing short snippets of songs, usually one line, whereas songs in the American version were much longer. Songs in Drew Carey's Improv-A-Ganza were longer still, and typically only one song is shown per episode.
Running gags that evolved for the pitchmen include:
Opening with "we'll be back to [a parody show title] in just a second"
Inventing an absurd combination of the number of songs and CDs in the collection
Devising intentionally awkward segues to the next song or artist
On Drew Carey's Improv-A-Ganza, the pitchmen performers would sometimes do impressions of celebrities when introducing the CDs, such as Jonathan Mangum doing an impression of George Takei.
Similar to "Telethon", "Remember That Song", "Musical Producers", and "Musical Film Review"
Appearances
UK
US
AU
IAG