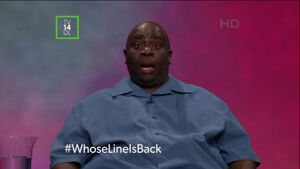 Gary Anthony Williams (born 14 March 1966) ​is an American actor. He has been a recurring cast member on the American version of Whose Line is it Anyway? since the ninth season. 
Gary was introduced to acting in high school when a computer error mistakenly put him in a drama class. Much to his own surprise, he decided to stay in the class and discovered his love for acting. After attending Clayton State College, Gary moved from his hometown of Fayetteville, Georgia to Atlanta and began training with the Georgia Shakespeare Festival. In addition, Gary worked with The Academy Theatre, the Laughing Matters Improv Comedy Group (which he refers to as "one of the best in the charted universe"), The Shakespeare Tavern, The Alliance Theatre and Agatha's Dinner Theatre.
Gary's first television credit was a guest starring role in In the Heat of the Night. Additional television credits included being a series regular in Blue Collar TV and guest-starring roles on Reno 911! and CSI. He was also a series regular in the Peabody Award-winning animated show, The Boondocks and the successful ABC dramedy Boston Legal. His film credits include Undercover Brother, Harold and Kumar Go to White Castle, Cook Off, and Soul Plane.
Williams lives in the Los Angeles area with his wife and son and their dog, Gypsy. In his spare time, he enjoys playing tennis and, according to his research, he claims to be the "largest vegetarian in California."
Appearances
Community content is available under
CC-BY-SA
unless otherwise noted.