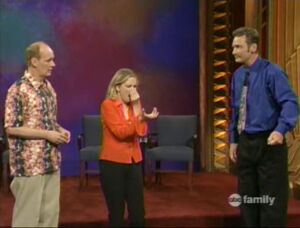 Film TV and Theater Styles (a.k.a. Film and Theater Styles) is a game in which, prior to the scene, the host solicits various styles of film, TV or theater from the audience. These can be either broad genres (e.g. sci-fi) or specific titles (e.g. Star Wars). Two or three performers then begin a given scene; the host periodically stops the scene with a buzzer and chooses an audience-suggested style in which the performers must continue the scene. In the UK pilot and radio episodes, this game was called Genre Option. It's simply called Styles on Green Screen and Options on Improv-A-Ganza. In Green Screen and Improv-A-Ganza, the styles would be suggested each time the scene stopped. When that happened, the audiences' suggestions would be based on a specific category, such as a book an audience member has recently read, an audience member's favorite director, or even an audience member's favorite country.
Similar to "Emotion Options", "Change of Cast", and "Sideways Scene"
Appearances
Radio
UK
US
GS
IAG
Trivia
In early UK playings, it was sometimes played twice in one episode, once with each pair of performers.
Later US playings added a third performer to the game.