Good evening and welcome to Whose Line Is It Anyway? On tonight's show:
I'm your host, Drew Carey. Come on down. Let's have some fun.
The Points
Don't matter, kinda like...

Jerry Springer's final thought

Don't mean a thing, like...
Don't matter, just like...

A stop sign at three in the morning
Games
Superheroes

Crisis: We're out of deodorant

Greg - Armpit Man
Ryan - Fashion Photographer Kid
Colin - Professor Panic
Wayne - Captain Does the Splits at Every Moment He Can
Song Styles

Singer: Wayne
Musicians: Laura and Linda
About: Delores, a retired junior high school secretary who likes to garden
Style: Michael Jackson getting older
Newsflash

Newsanchors: Ryan and Greg
Field reporter: Colin
On the green screen: Chinese nuclear test site
Three-Headed Broadway Star

Heads: Wayne, Drew, and Ryan
Musicians: Laura and Linda
Musical: My Favorite Shoe
Song: "You've Got Soul"
Winners
Ryan and Wayne

Get to do a game with Drew
Credits
Ryan and Wayne read the credits like teenage girls at a slumber party
Trivia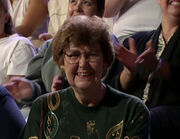 Presuming she'd want to win, Delores from "Song Styles" is the all-time points winner, since she received one point to plant and grow a big point tree so she could have as many points as she wanted for the rest of her life.
First playing of "Questionable Impressions"
Gallery
Hats Gallery
Community content is available under
CC-BY-SA
unless otherwise noted.