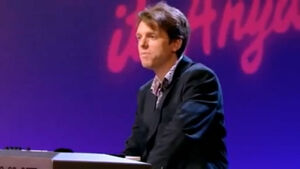 Duncan Walsh Atkins is a British musician.
Duncan Walsh Atkins studied at Oxford, where he conducted the University Gilbert & Sullivan Society. After graduating he worked as a choirmaster in South Africa before moving to London.
He has been musical director of Showstoppers! since 2009, which has had sell-out Edinburgh Festival Fringe and West End runs, national and international tours, and a BBC Radio 4 series. His other credits include Adam Megiddo's Burlesque which won the 2011 Off-West End Best New Musical Award, and The Tailor-Made Man at the Arts Theatre (which he co-composed with Meggido), Half a Sixpence UK tour with Gary Wilmot, The Blues Brothers Party UK and Japan tour, Round The Horne UK tour, the Flanders & Swann tribute At the Drop of a Hippopotamus, Mitchell & Webb's Macbeth & The Beanstalk, Noel Coward's Words & Music, the touring West End/Broadway tribute Mad About the Musicals, and Jonathan Harvey's Taking Charlie for the 2004 Edinburgh Festival Fringe.
He has also appeared several times on BBC Radio, recording September Tide with Jonathan Firth, the Tina C and Ida Barr series with the comedian Christopher Green, and Radio 2's Friday Night Is Music Night. He has collaborated with fellow Showstoppers Ruth Bratt and Lucy Trodd on their Radio 4 series Trodd En Bratt and with Pippa Evans on her musical contributions to the Now Show. He was musical director of the BBC2 improvised comedy series Fast and Loose in 2010, hosted by Hugh Dennis, has played keyboards on Jersey Boys in the West End, and can occasionally be seen in a wig portraying Benny Andersson in Abbamania.
Appearances
UK
Community content is available under
CC-BY-SA
unless otherwise noted.