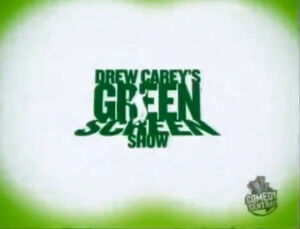 Drew Carey's Green Screen Show is a short-lived spin-off of the American version of Whose Line is it Anyway? that was produced after new tapings of Whose Line had ceased, but before the final seasons were cut from old tapings. The distinguishing feature of the show was that the improv games were performed in front of a "green screen", with animation, music and sound effects inserted in post-production.
Seasons
The first season of Green Screen Show was featured on The WB network (now The CW, which later aired the 2013 reboot of WLIIA?) in 2004, and the second season aired in 2005 on the Comedy Central cable network. It was cancelled abruptly due to low interest and ratings.
Performers
Returning on the show was Drew Carey, who once again served as host but also performed in games more often than before. Colin Mochrie, Greg Proops, Brad Sherwood, Jeff Davis, and Chip Esten all returned regularly. Other performers included Kathy Kinney (who also performed on the US WLIIA? version and The Drew Carey Show with Ryan Stiles and Carey), Jonathan Mangum, Sean Masterson (who both appeared in Drew Carey's Improv-A-Ganza), and Julie Larson (writer and producer on The Drew Carey Show). Ryan Stiles only appeared in an unaired episode that also included actress Kaitlin Olson. Wayne Brady was the only main cast member of the American version of Whose Line is it Anyway? to not film an episode.
Games
The games were familiar but made more use of the titled technology to complement the comedy.
Community content is available under
CC-BY-SA
unless otherwise noted.