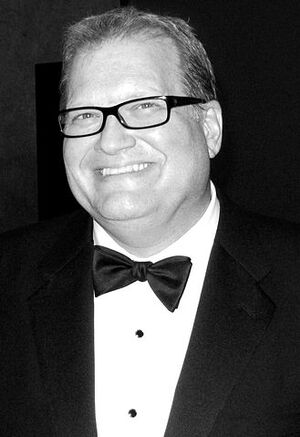 Drew Carey (born 23 May 1958) is an American television personality who hosted and produced the American version of Whose Line Is It Anyway? from 1998 to 2007.
He starred on his long-lasting sitcom, The Drew Carey Show, which co-starred Ryan Stiles. He also starred in a 2000 TV musical version of Geppetto, co-starring Wayne Brady, which received such negative reviews that members of the cast started parodying it every once in awhile on Whose Line? He later hosted and co-produced other incarnations of the show such as Drew Carey's Green Screen Show and Improv-A-Ganza. 
Since 2007, Drew has hosted the long-running game show The Price Is Right, succeeding Bob Barker who retired after having hosted the show for 35 seasons.
Though Drew hasn't appeared on the revival version of Whose Line Is It Anyway?, Drew has occasionally been mentioned by current host Aisha Tyler and the performers, usually in a joking manner.
External Links
Community content is available under
CC-BY-SA
unless otherwise noted.