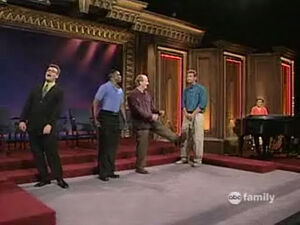 The Commercial Hoedown is an edition of the "Hoedown" game from the American version of Whose Line. It was performed in Episode 1-07 by Greg Proops, Wayne Brady, Colin Mochrie and Ryan Stiles, with Laura Hall on keyboards.
Lyrics
Greg:
I'm in advertising, you know my name is Rick
And I am really groovy, 'cause I am not a brick
I sell and sell you stuff, stuff that you don't need
Because I have one motivation, and that's massive greed

Wayne:
Why don't you buy that stuff, you baby boomer?
I know you've got lots of cash, you are a big consumer
Man, oh, man. Everything from cars to fast foods I sell
My biggest slogan, "Yo quiero Taco Bell"

Colin:
I hate commercials, what a waste of time
They take up all the program, it really is a crime
They seem to waste all the time in my precious life
Thank god they're sixty seconds, then I can make love to my wife

Ryan:
I buy lots of products when I'm at home alone
It's really, really easy, you order them by phone
Not to order these things is really kinda hard
But I never worry to much, I use Colin's credit card

All:
Colin's credit card!
Greg's Cut Verse
Oh, I'm an advertiser and I'm a groovy guy
I sit around thinking of stuff that you can buy
Lots of stuff you don't need. That will make...

Fuck me.. in the ass.