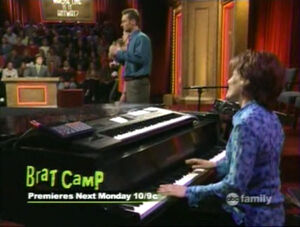 The Cheating Hoedown is an edition of the Hoedown game from the American version of Whose Line. It was performed in Episode 5-26 by Wayne Brady, Drew Carey, Colin Mochrie and Ryan Stiles, with the help of Laura Hall on the piano.
Lyrics
Wayne:
Well, I know that we're in matrimony,
But I cheated on you, so I feel just like a phony.
Now, girl you see from the day that we've been married,
I was sleeping with you, but I was making love to Drew Carey.

Drew:
Let me tell you, ever since I was thirteen,
You've given me the best lovin' and that I've ever seen.
Let me tell you something that I know you can't stand,
I've been cheating on you with my other hand.

Colin:
Yes, I've cheated on you; I've had women by the score.
At last count, it was over eighty-four.
I don't care that you're mad or your pride is bent,
'Cause I've just been pardoned by the ex-president.

Ryan:
I cheated on my wife with her sister and her mother.
I also slept with her cousin and her brother.
Boy, when she heard, boy did it sting her.
The good news is next week we're on Jerry Springer.

All:
We're on Jerry Springer!