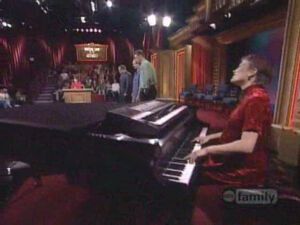 The Blind Date Hoedown (US 1-10) is an edition of the "Hoedown" game from the American version of Whose Line. It was performed in Episode 1-10 by Wayne Brady, Drew Carey, Colin Mochrie and Ryan Stiles, with Laura Hall on the piano.
Lyrics
Wayne:
So, there I am. I got a message in a bottle.
I'd won a free date with a tall supermodel.
She was about six foot five, but the date was really lame.
I didn't have a good time 'cause we played "The Crying Game".

Drew:
I used to hate blind dates. They never did work out.
They'd give me a kiss on the cheek and then they'd throw me out.
Nowadays, my blind dates go off without a hitch.
I know I'm not good-looking, but I'm really, really rich.

Colin:
I had a blind date. It really was the pits.
Nothing worked all night. I kept getting hit.
She really was abusive, man, oh man, oh man,
But what else can you expect when your blind date is Roseanne?

Ryan:
I had a blind date just the other night,
The type of girl that really shouldn't be in the light.
She wasn't really attractive. She was kind of bland,
But she still beat the hell out of using my right [hand].

All:
Using my right hand!
Community content is available under
CC-BY-SA
unless otherwise noted.