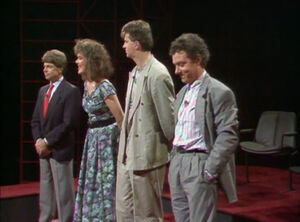 Authors is a game in which the performers tell a story with an audience-supplied title, each in the style of a different author or writing style they select themselves. They each perform one-at-a-time, continuing from where the last performer left off when the host sounds the buzzer.
Similar to "Remote Control" and "A Great Debate"
Appearances
Radio
UK
Trivia
Often the first game played in early UK episodes
First game ever played on Whose Line Is It Anyway?
Community content is available under
CC-BY-SA
unless otherwise noted.