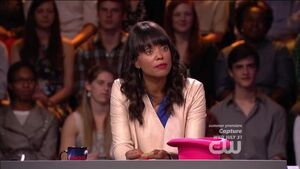 Aisha Tyler (born 18 September 1970, San Francisco, California) is an American actress and stand-up comedian who has hosted the American version of Whose Line Is It Anyway? since the ninth season, which first aired in the summer of 2013. Her catchphrase for the show is "Let's make some stuff up" and, like previous host Drew Carey, she often exchanges witty banter with the cast of performers. Since the eleventh season, Aisha has participated in some of the games, such as "Scenes from a Hat" and "Song Styles", along with the performers; while Carey would often take part in a game to close the episode, Tyler's participation takes place at any time in the episode.
Tyler was raised from the age of ten by her father, Jim, a photographer, following his divorce from her mother, Robin Gregory, a school teacher. Exhibiting an interest in comedy at an early age, Aisha studied acting at School of the Arts High School and also took improv classes on the side.
She was formerly the co-host for CBS' The Talk morning show (with Sheryl Underwood) and is currently the voice of Lana on FX's animated sitcom Archer and has an acclaimed podcast GirlOnGuy. She has previously had recurring roles on hit TV shows such as Ghost Whisperer (with Karen Maruyama), Friends, CSI, 24, and XIII: The Series.
External Links