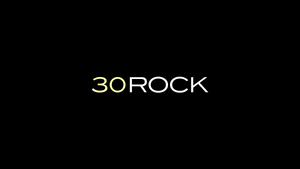 30 Rock is an American satirical television sitcom that ran on NBC from 11 October 2006 to 31 January 2013, and was created by Tina Fey. The series, which is loosely based on Fey's experiences as head writer for Saturday Night Live, takes place behind the scenes of a fictional live sketch comedy series depicted as airing on NBC. The series' name refers to 30 Rockefeller Plaza in New York City, the address of the GE Building, in which the NBC Studios are located. This series is produced by Broadway Video and Little Stranger, Inc., in association with NBCUniversal.
Episodes were produced in a single-camera setup (with the exception of the two live episodes that were taped in the multi-camera format), and were filmed in New York. The pilot episode premiered on 11 October 2006, and seven full seasons followed. The series stars Fey with a supporting cast that includes Alec Baldwin, Tracy Morgan, Jane Krakowski, Jack McBrayer, Scott Adsit, Judah Friedlander, Katrina Bowden, Keith Powell, Lonny Ross, John Lutz, Kevin Brown, Grizz Chapman, Maulik Pancholy and Rachel Dratch.
Tonally, the show did not adopt a realistic style, instead using absurdist humor to parody the complex corporate structure of NBC and its then parent company General Electric. Review website AV Club commented that it 'usually adopts the manic pacing of a live-action cartoon.' The show made extensive use of smash cuts: sudden, short cuts to unrelated scenes showing something the characters are briefly discussing. It became known for its dedication to making these extremely elaborate, once showing a set that took three days to build for just six seconds.
The show was a runaway critical success, winning several major awards (including Primetime Emmy Awards for Outstanding Comedy Series in 2007, 2008, and 2009 and nominations for every other year it ran), and achieving the esteemed top ranking on a myriad critics' year-end best of 2006-2013 lists. On 14 July 2009, the series was nominated for 22 Primetime Emmy Awards, the most in a single year for a comedy series. Over the course of the series, it was nominated for 112 Emmy awards and won 16, in addition to numerous other nominations and wins from other awards shows. Despite the acclaim, the series struggled in the ratings throughout its run, something which Fey herself has made light of.
Connections
Gallery